Independent economic impact assessments and studies reveal that there is huge potential to grow Namibia's economy through marine phosphate mining and associated industries. The potential socio-economic benefits that could be unlocked by the marine phosphate industry far outweigh the risk of causing substantial environmental damage, the concerns of which have delayed the development of phosphate projects in Namibia.
The Covid-19 pandemic and prior economic challenges has plunged Namibia's economy into its deepest recession in recorded history, and the urgency to boost economic growth is now more crucial than ever.
To generate meaningful and lasting positive impact on the country's economy, growth opportunities should be long-term and sustainable in nature. Namibia is home to a world class marine phosphate deposit that could be developed to produce fertiliser, yet this essential product is imported to meet local requirements. There are two prominent marine phosphate mining projects proposed for development, with life of mine estimates of more than 200 years. In this regard, the marine phosphate industry has the potential to generate socio-economic benefits for communities and the nation for generations to come.
In addition to the sustainability of this industry, an economic impact assessment carried out by an independent South African firm (Stratecon Applied Economic Research), in 2018, highlights the economic growth potential for Namibia from the development of a marine phosphate and fertilizer industry.
The report is based on actual economic data from the period 2012-2016 and quantifies the potential economic benefits deriving from marine phosphate mining and related fertiliser industries.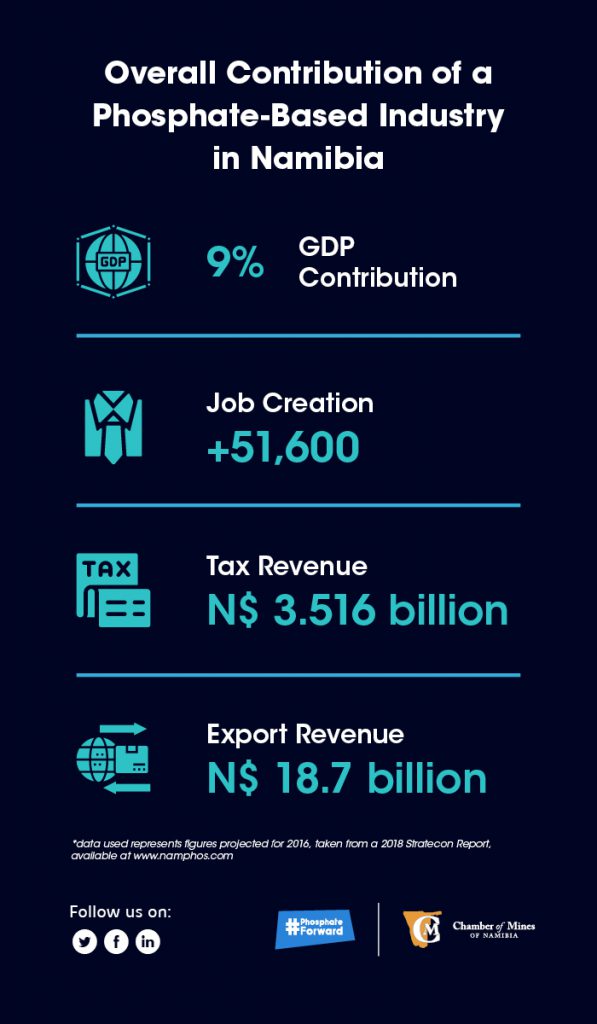 Namibia's Gross Domestic Product (GDP) posted a contraction of -1.6% percent in 2019. As a direct result of Covid-19, it is now forecast that Namibia's economy will enter a deeper recession in 2020, which ranges from -7.9% to -8.5%, returning to moderate growth in 2021.
According to the Stratecon report , the commercial activities of marine phosphate mining and associated industries can add 9% to GDP. The additional contribution will no doubt boost economic growth, and also provide some of the economic stimulus that Namibia desperately needs.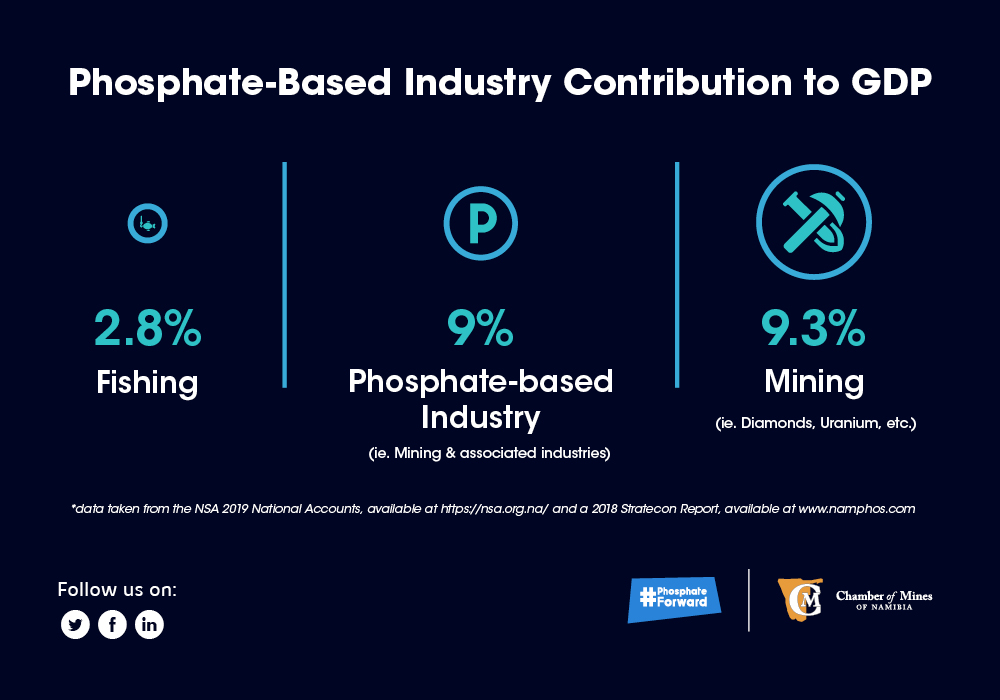 According to the latest figures in the 2018 Namibia Labour Force Survey, Namibia's overall unemployment rate stands at 33.3% and youth unemployment at 46.1%, which is exceptionally high by international standards. The number of unemployed Namibians have undoubtedly increased since 2018, with 5,748 formal retrenchments recorded in the first quarter of 2020 alone. This does not include the number of job losses from the informal sector that have occurred in high numbers due to lockdowns and Covid-19 restrictions. In this context, phosphate mining and the production of fertiliser has the potential to create an additional 51,600 direct, indirect and induced jobs in Namibia.
New jobs created by the marine phosphate industry will reduce Namibia's 2018 official unemployment rate by 4.8%, from 33.4% to 28.7%. An additional 51,600 jobs would have a major impact on the individuals and households that have lost jobs, incomes and livelihoods.
The biggest impact on job creation will be through the indirect supply chain linkages which include local businesses and service providers that will be created to service the needs of the mining, processing and fertiliser operations.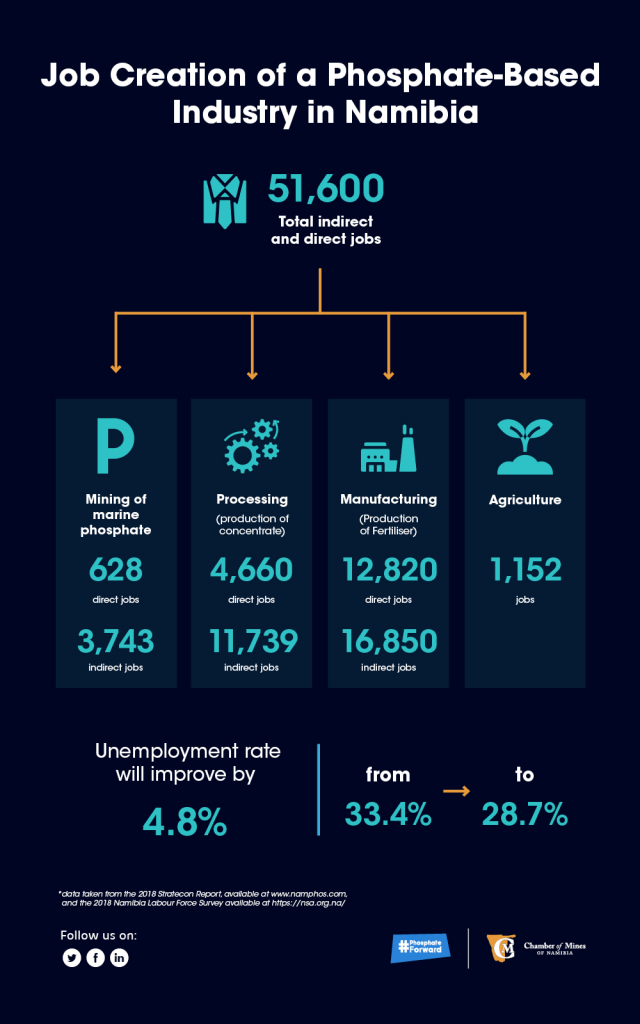 Cumulative budget deficits in recent years have resulted in escalating Government debt levels, which currently stand at 68.8% as a proportion of GDP. This is projected to reach 77.7% in the next two years. Namibia's budget deficit is forecast to reach N$17.6 billion in the current financial year (2020/2021), and is expected to remain elevated at over N$13 billion for the next two financial years.
The Stratecon report indicates that Government stands to generate an additional N$3.5 billion in taxes and royalties from the commercial activities of marine phosphate mining and fertiliser production, which can materially reduce budget deficits going forward, and the burden on Government to finance their activities through increased debt accumulation. Government will also receive additional income from new jobs created in the marine phosphate industry, in the form of PAYE on wages and salaries and VAT on consumption.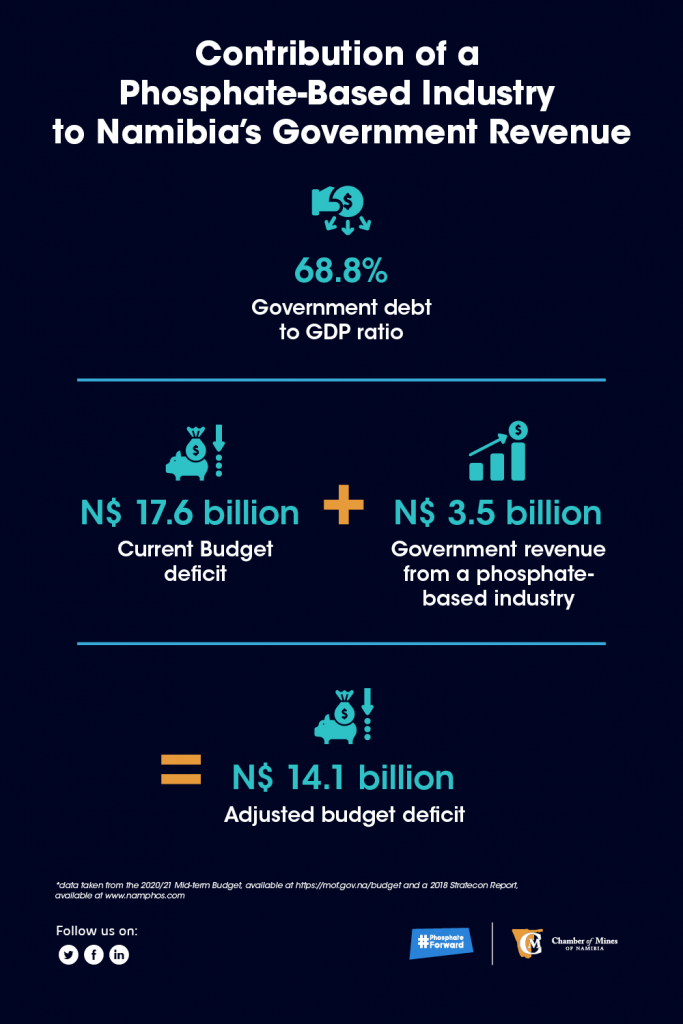 Marine phosphate mining and fertiliser production will improve Namibia's trade position by generating an additional N$18.7 billion in export earnings, as adjusted to 2016 prices. Trade deficits in the past have placed significant pressure on maintaining Namibia's peg to the South African rand, which requires a minimum amount of foreign exchange reserves to finance this link. The boost in foreign exchange earnings from the export of fertiliser will most certainly improve the Namibia's trade balance position in the long-term, and Namibia's marco-economic stability in sustaining the currency peg.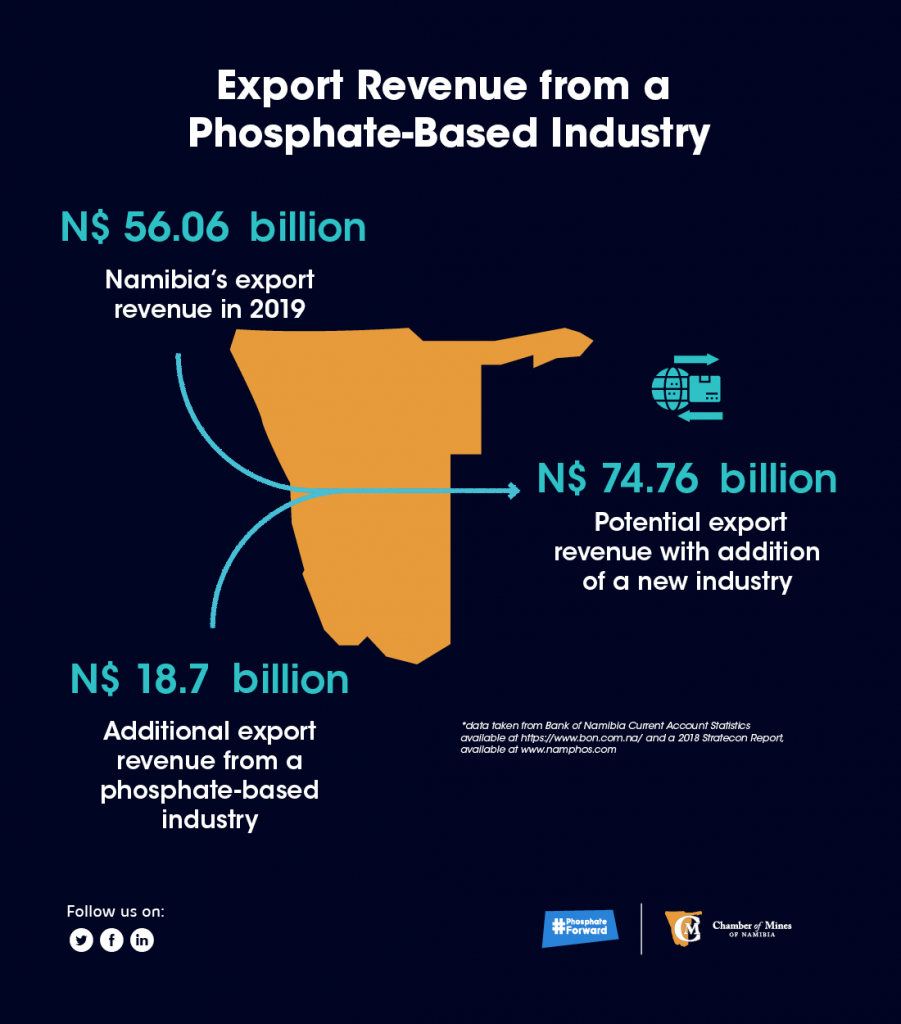 Looking Ahead
It is unclear when the local tourism, secondary and other tertiary industries are likely to recover, as a second wave of infections all over the globe have ignited further lockdowns and travel restrictions. Economic recovery and solutions thus need to be sought within the country's borders, in which local industries should be boosted and supported.
The marine phosphate mining industry presents a realistic and sustainable economic growth opportunity to direct increased investment to Namibia, and revive economic growth, with proven potential to create long-term benefits for livelihoods, communities and the broader nation as a whole.