Allegrow is primarily a growth and operational development fund with a Namibia-only mandate. The fund is managed by Eos Capital, an established private equity fund manager, focused on uplifting the Namibian economy through its role in growing companies in which it invests. N$460 million has been raised and fully deployed. Three of Allegrow's nine investments, namely Heat Exchange Products, ECOTECH, and Panel to Panel, have shifted their focus to Namibia's mining sector.
Percy McCallum, chairperson of the boards of Heat Exchange Products, ECOTECH, and Panel to Panel says: "Eos Capital is 100% Namibian and manages the majority shareholding, being Previously Disadvantaged Namibians, in these portfolio companies."
"Our three companies provide excellent services and guidance in their areas of expertise to clients, especially in the mining industry and public services SOEs. We are proudly Namibian companies, compete with the best and our clients are highly satisfied with the quality of our products and technical know-how. Our companies also have significant market share with their products and services", he says.
The three companies provide around 100 permanent jobs to Namibians and ensure that their employees receive training, mentoring, and coaching to ensure a high-performance culture is evident. With the intent of exploring the external market, in particular within the SADC region, McCallum says the outlook is exciting and provides a good opportunity for the portfolio companies to sell their proudly Namibian products and be good ambassadors for the country.
HEP Water – Your Partner in Water Treatment solutions
Heat Exchange Products (HEP Water), established in 1998, initially focused on heat transfer, but progressively diversified to provide long-term effective water management solutions to various sectors of Namibia's market. Over time, the company has grown with the addition of companies, such as Valco Pipes cc in 2019 and Aqua Mechanica (previously known as Continental Spares) in 2021. HEP Water now boasts over 40 employees, with Windhoek and Walvis Bay offices.
Their multi-skilled teams have access to international and local expertise. Their offering to the mining sector includes chemical reagent supply (coagulants, flocculants, antiscalants, flotation reagents, bulk commodity chemicals), equipment supply (disinfection systems, chemical dosing pumps & makeup stations, transfer pumps, filter units, softeners, piping, and water meters), water and wastewater treatment plants including design and project management, and heat transfer solutions.
Daniélla Faria, Managing Director of HEP Water, says: "HEP Water prides itself on being the preferred partner in water treatment and heat transfer solutions across all major sectors in Namibia. In line with our core values, our strength lies in providing high-quality products, reliable expertise, and consistent service to our clients." HEP Water is 100% Namibian-owned and obtained ISO 9001 accreditation in 2011 for its Quality Management System (QMS). This QMS allows HEP Water to see challenges as opportunities to continually improve the quality of its products, services, and systems, and create long-term relationships with its clients.
For more information, contact HEP Water at +264 (61) 230 027, info@hepwater.com, or visit their website at www.hepwater.com.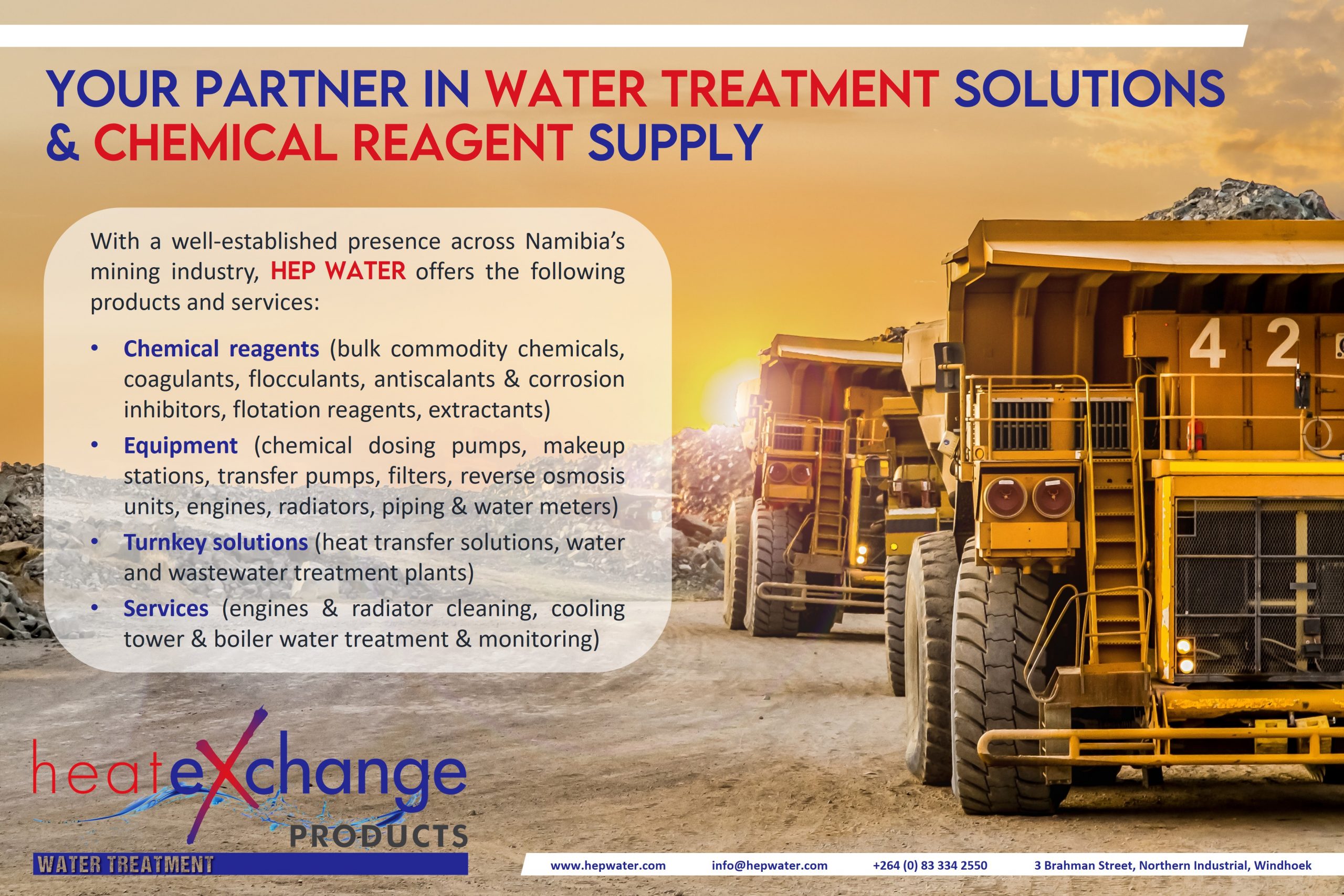 ECOTECH – Industrial Automation. Our Passion.
The evolution of industrial automation has unlocked unlimited opportunities to monitor, control and optimize manufacturing and industrial processes globally. Since the development of the first PLC and DCS systems in the 1970s, industrial automation has accelerated to become an essential requirement for industrial businesses, to operate efficiently, reliably, and safely. A complete automation system chain consists of sensors, process instruments, actuators and valves, cabling, data interfacing, and industrial data communications to control systems. The sizing & selection, supply & delivery, after sales-support & value-added services of its products have been ECOTECH's passion since 1998.
Holger Barth, Managing Director of ECOTECH, says: "With a product portfolio consisting of world-leading brands in the industrial automation industry, ECOTECH has established itself as the leading partner for industrial automation products in Namibia." Serving various industries, such as Mining, Water & Wastewater, Food & Beverage, Power Generation, Petrochemical, and other Manufacturing industries, ECOTECH, a 100% Namibian-owned business, is a trusted partner by Namibian industrial clients.
The rapid progression of the fourth industrial revolution offers industrial businesses endless opportunities to monitor and control their manufacturing processes with even higher intelligence and further transform their processes to become more efficient. With more than 25 years of experience and the innovation of our supplying partners, ECOTECH is ready to provide automation solutions that can transform industrial businesses into the next generation.
For more information, contact ECOTECH at +264 (61) 383 900, info@ecogroupnam.com or visit their website at www.ecogroupnamibia.com.
Panel to Panel – a Namibian Building Alternative to Brick and Mortar
Panel to Panel is a wholly owned Namibian manufacturer of insulated panels, with its factory and operations situated in Walvis Bay. Established in 2005, Panel to Panel was the first supplier of insulated panels to the refrigeration industry and prefabricated building market in Namibia. In 2010, the company expanded and made a N$1.6 million investment into their polystyrene plant. This investment enabled Panel to Panel to create more local employment opportunities and become less reliant on imports from South Africa. Today the company proudly employs 50 people.
Panels are made from high-quality fire retarded polystyrene and marine grade steel and can be used in various ways from refrigeration insulation to prefabricated buildings. For prefabricated buildings, the panels offer a quick and easy alternative to the traditional brick and mortar construction – and with the right design and layout, it can be a cheaper alternative. As a value-add to their customers, Panel to Panel has an onsite drawing office that assists with technical design and a fleet that delivers products directly to their customers.
Panel to Panel has been involved in many construction projects across Namibia, including the construction of mining camps, offices, change houses, accommodation units, and security facilities, as well as field clinics and classrooms. In the agricultural sector, their panels are widely used in fishing factories, chicken hatcheries, and abattoirs as refrigeration insulation.
For more information, contact Panel to Panel at +264 (64) 203 445, johan@ptp.com.na or visit their website at www.panel2panel-na.com.