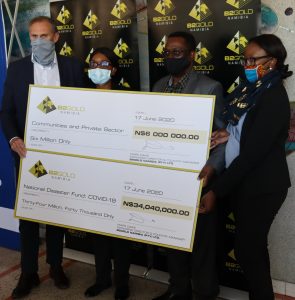 In order to mitigate the impacts of the COVID-19 pandemic on the country at large, B2Gold Namibia has taken industry-leading steps to contribute to the Namibian Government's amelioration efforts.
B2Gold Namibia, with support from its Board of Directors and B2Gold Corp. (Canada), has made total contribution of N$34 million to assist the Namibian Government with COVID-19 relief efforts. This contribution was officially handed over to the COVID-19 Disaster Relief Fund in a ceremony at the Prime Minister's office on June 17, 2020.
The Fund was set up under the Emergency Management Unit of the Office of the Prime Minister. The Unit is responsible for mobilising resources locally and internationally during a national emergency. Mobilisation is expected to contribute to the purchase of personal protection equipment (PPE), food relief packages, the purchase of hospital equipment (such as ventilators) and preparedness of healthcare workers.
This latest contribution means that, year-to-date, B2Gold Namibia has made the following voluntary contributions towards upliftment of livelihoods in Namibia, which is in line with B2Gold Namibia's overall CSR strategy.
N$ 29 million as part of its annual Corporate Social Responsibility contribution
B2Gold's CSR initiatives focus on five focal pillars namely Education, Livelihoods, Health, Environment & Conservation and Arts & Culture.
N$ 4 million as an initial COVID-19 response contribution
This contribution was disbursed in April of this year and was split between targeted government interventions and Development Workshop of Namibia (DWN), an NGO which operates through the Namibian Chamber of Environment (NCE). DWN's Coronavirus response initiatives are focused on hygiene, sanitation and food security projects in the informal residential areas of urban townships throughout the country. (Outside of its COVID-19 response, DWN focuses on the establishment of affordable semi-formal serviced land and housing around many urban centres in Namibia.)
A one thousand ounce gold donation as part of the Rhino Gold Bar Project (valued at N$ 29 million)
The donation represents the first time that gold, a natural resource from the ground, is being used to provide sustainable funding to community-backed initiatives for the protection of the iconic black rhino. One thousand Rhino Gold Bars in varying sizes were produced. Proceeds from the sale of the bars is managed by an Advisory Committee, which includes representatives from B2Gold, Save the Rhino Trust Namibia, Integrated Rural Development and Nature Conservation, NCE, and the Ministry of Environment, Forestry and Tourism. Within four-and-a-half months of the launch of the Rhino Gold Bar, the project has already disbursed N$ 3 million to community-backed rhino conservation efforts due to the unexpected and dire impacts of COVID-19 on the Kunene Region in Namibia (where SRT operations are located).
N$34 million contribution to the Government's COVID-19 Disaster Relief Fund
These contributions therefore amount to a total of N$ 96 million in non-obligatory funding. "Our level of voluntary contribution to Namibia demonstrates our Company's sincere commitment to the improvement of livelihoods of all Namibians," said Managing Director and Country Manager Mark Dawe.
Clive Johnson, President and CEO of B2Gold Corp. in the just-published B2Gold 2019 Responsible Mining Report provides further context for B2Gold's approach to COVID-19 amelioration efforts: "A compelling test of a Company's commitment to responsible mining is evident when a crisis emerges. The COVID-19 pandemic, which has impacted all facets of life in all corners of the world, has given our stakeholders a unique perspective into the heart of B2Gold and provides an opportunity to shine a light on our Company values. B2Gold has responded with excellence in all aspects of our operations."
Content contributed by B2Gold Namibia