Havana Secondary Project School gets development bailout
After receiving a basic education in tents during the rainy season earlier this year, the learners of the Havana Secondary Project School have received N$100,000 from Walvis Bay Salt Holdings to contribute towards a school building.
In attendance at the hand-over ceremony was Walvis Bay Salt Holdings, Managing Director, Andre Snyman, the Director of Education for the Khomas Region, Gerard Vries, and the Minister of Mines and Energy, Honourable Tom Alweendo.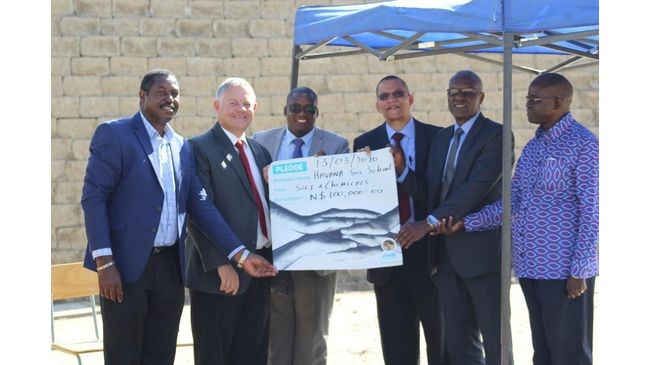 Hon. Alweendo said despite trying times and tough conditions, children should look beyond their present circumstances to a greater future.
"Don't let your circumstances determine your future. Not so long ago you were taught under these tents that were almost flooded, but as you receive this donation, we hope that it will go to good use in building classrooms.
"This is not the only school that was started under a tree and this will not be the last, but I think it is important that we show our gratitude to the teachers who make sure that the children are educated nonetheless," he said.
"Investing in education must come as second nature because there is a dire need for proper educational facilities in Namibia, especially in parts like the Havana informal settlement." The minister also said that his ministry would supply the whole area with electricity within the next few weeks.
The school Principal, Simasiku Mweti, said words would never be enough to thank their donors. "To everyone in attendance, thank you for the support and a bigger thank you to Walvis Bay Salt Holdings for this donation and this is the first of many steps in the right direction," Mweti said.
"Slowly but surely good Samaritans all over Namibia are giving towards the education sector to help build the futures of all the young people and leaders that this country needs."
Contributed by Walvis Bay Salt Holdings