The Twin Hills Trust, in partnership with the Development Workshop of Namibia, supports early childhood development in Omaruru
Achieving a high standard of ESG (Environmental, Social and Governance) performance is important for any successful and forward-looking company. At Osino Resources Corp., a Canadian gold exploration and development company active in Namibia, sustainability is central to the way the company does business.
Following the publication of its sustainability strategy in 2021, Osino continues to embed ESG practices throughout the organisation to ensure it is building short- and long-term value for all its key stakeholders.
Selecting the Best Guiding Frameworks
Over the years, the number of frameworks an organisation can draw on to guide their sustainability activities has proliferated. Some of these frameworks have become as comprehensive and rigorous in their reporting requirements as financial accounting standards.
Osino has selected the following frameworks to guide its ESG efforts:
International Council on Mining & Metals (ICMM's) Mining Principles: The ICMM's Mining Principles is a globally recognised, mining-specific framework.
The Global Reporting Initiative Sustainability Reporting Standards: The GRI is the most widely recognised sustainability reporting framework.
Best Practice Guide for Mining in Namibia: Recently launched by Namibia's Chamber of Mines, this comprehensive guide includes practical ESG guidance and recommendations across the different stages of the mining life cycle, from exploration and construction to operations and closure.
Other initiatives and frameworks, such as the UN Sustainable Development Goals (SDGs), the Responsible Gold Mining Principles (RGMPs) and the Sustainability Accounting Standards Board (SASB) standards, were also considered and are being used to augment the above frameworks.
Osino Resources Stretches for Gold
Osino has set itself two stretch goals for sustainability:
To meet or exceed all relevant recommendations made by the ICMM's Mining Principles and the Namibian Best Practice Guide for Mining by the end of 2022.
To publish a sustainability report fully compliant with the GRI Standards by early 2023 (for the 2022 financial year).
In addition, Osino has set itself the longer-term goal of becoming Namibia's most respected and responsible gold mining company.
Focusing on What is Most Important
A materiality assessment was undertaken to identify the social and environmental topics most important for the company and its stakeholders. The assessment will be repeated periodically.
This prioritisation of topics allows the company to better focus its limited resources to minimise negative social and environmental impacts, while maximising its ability to drive positive change.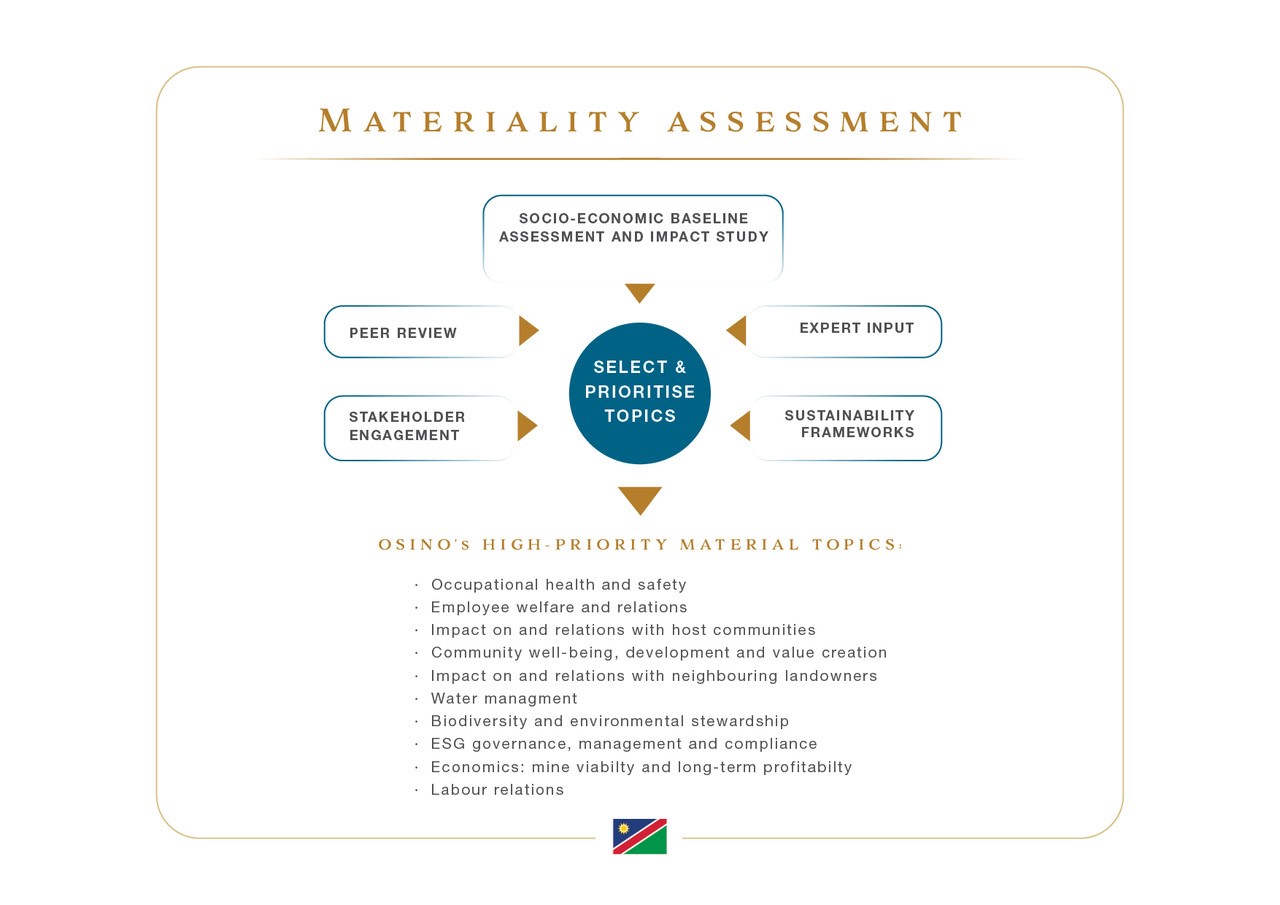 Drilling Down into Implementation
For each of the material topics that were identified, the company will ensure that, where needed, comprehensive policies, standard operating procedures, management processes and supporting training processes are put in place. Targets and key performance indicators are being set to track and manage performance.
Taking priority among these topics has been to:
Improve occupational health and safety management and reporting systems, not just for Osino, but also its drilling contractors active on its exploration and development sites.
Implement a comprehensive sustainability data gathering system for itself and its drilling contractors, thus allowing the tracking of sustainability performance indicators.
Expand its community engagement and development activities.
Invest in community development.
Investing in Host Communities
Corporate social investment (CSI) is an important facet of Osino's wider sustainability efforts and a dedicated social and environmental development entity, the Twin Hills Trust, was set up in 2021 to manage its CSI activities.
The Trust's work is now increasingly supported by Osino's key suppliers, service providers and investors. Visit the Trust's website, www.twinhillstrust.org, to read more about its exciting work across various social and environmental dimensions.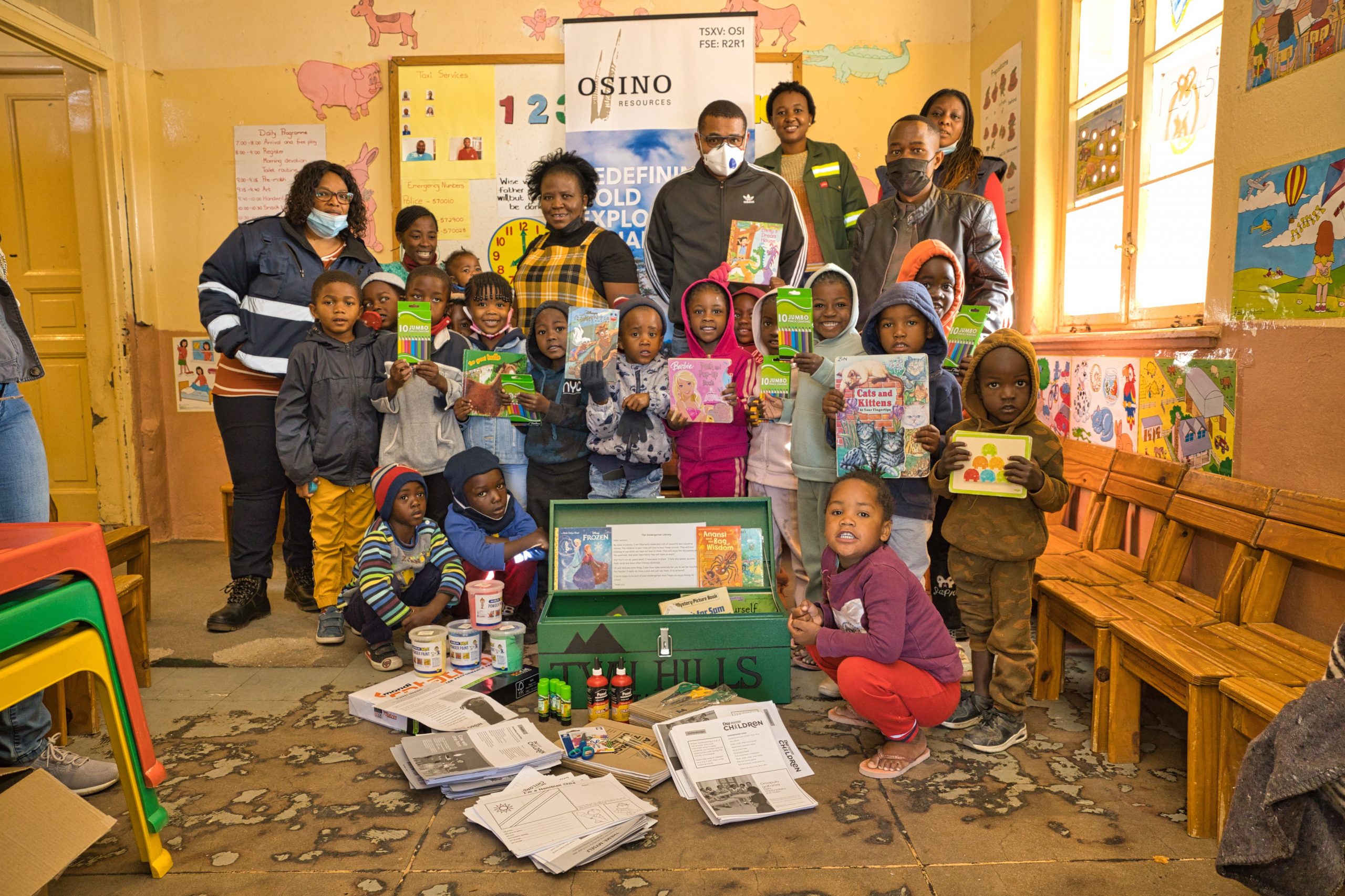 Contributed by Osino Resources