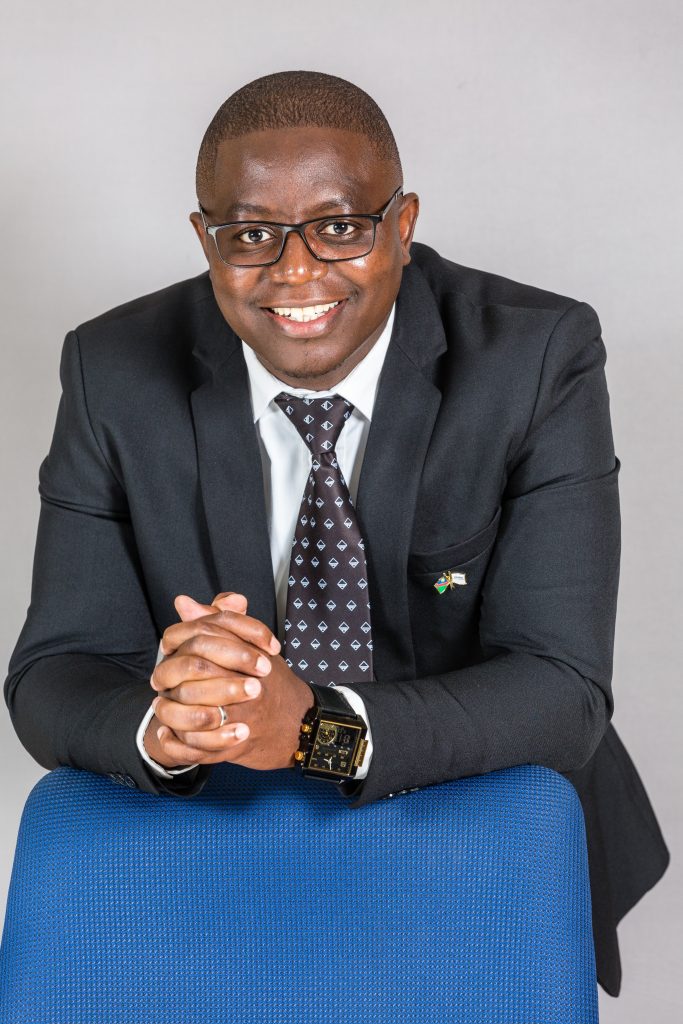 "Although I knew I was up for the challenge, I couldn't have fathomed something of this magnitude was on the horizon."
As the HR Senior Manager who is responsible for HR at Namdeb, Moses Iinane was in no way prepared for what was to hit him when his role was expanded to include HR oversight of Namdeb Private Hospital just before COVID-19 struck Namibia.
Having initially accepted his new responsibilities wholeheartedly, Moses was well aware of the big challenges associated with the role and was excited given his passion for working with people. However, what was deemed a normal routine for his day to day tasks was completely altered with the outbreak of the COVID-19 pandemic. Moses said the process of ensuring that Namdeb adequately responds to the pandemic has been a learning curve for him and the organisation in general. Namdeb established a COVID-19 Response team which has to do things differently and at a fast pace to respond to the potential impact of the pandemic. Fortunately, the team was able to recognise early on that as leaders, there was a lot at stake and stepping up was the only choice to provide guidance to all stakeholders and ensure business continuity. The location of Namdeb's operation in Oranjemund and as part of a small community required that swift measures were implemented to curb the potential spread of the virus and to ensure adequate facilities were in place to safeguard the employees and community at large.
Safety being a priority for Namdeb could not be compromised in any way, Moses and the team had to ensure that new procedures and protocols were in place, which was a daunting task since there was no precedent from which one could benchmark. More challenging still was ensuring alignment to Government's state of emergency regulations and directives which were constantly being amended as both state and organisation manoeuvred the rapidly changing environment.
Since then, Moses has been supporting the hospital in preparing for COVID-19 cases, setting up of isolation units in the likely event of an outbreak within the diamond town of Oranjemund and procuring essential medical equipment such as ventilators, new beds and testing equipment. "We've had to move at the speed of light and with collaboration from everyone, but the acquisition of the medical equipment in the face of global shortages will go down in history as an achievement for the Namdeb hospital, with most of the equipment having multiple usages beyond COVID-19," Moses explained.
Today, as part of the work that Moses and the Namdeb team has had to do, Namdeb has a fully equipped medical testing laboratory available for usage both by Namdeb employees and the Oranjemund community at large. Having a testing centre is pivotal in ensuring that testing is administered locally thereby eliminating the backlog of tests in the country. The Namdeb Hospital has had to put in place a policy framework that would serve as a frame of reference, in particular, providing guidance to the hospital staff and community in dealing with a suspected COVID-19 case, confirmed cases as well as a possible deaths as a result of COVID-19.
"Lockdown has been a defining moment for me in many respects. Personally, my workload has increased exponentially, and I've realized that we often fail to appreciate things such as freedom of movement, socializing and entertainment, which are indispensable with humans as social beings. But there has also been some positive impacts: the acceleration of flexible working, regular exercise, spending some quality time with my family, as well as the reprioritization of healthcare and support for societies most vulnerable people."
With his limited knowledge of the medical world, Moses realised that we need each other to make things happen in life. His appreciation goes to the entire Namdeb Private Hospital crew for their selfless effort in ensuring the provision of healthcare to the community and their concerted efforts towards overcoming barriers presented by the COVID-19 pandemic.
Namdeb's efforts in ensuring safety, health and wellness of both employees and community during this time is a true demonstration of a caring organization like many, that will go beyond its call to protect the lives and livelihood of everyone.
Content contributed by Namdeb