Reptile Mineral Resources and Exploration (Pty) Ltd (RMR) is advancing directly to a Definitive Feasibility (DFS) Study at its 100% owned Tumas Project, after completing a highly successful Pre-Feasibility Study (PFS).
RMR is Swakopmund based and part of the Deep Yellow Ltd group of companies – RMR and its subsidiaries have been active in Namibia since 2006, exploring for nuclear fuels in the Namib Naukluft National Park. Deep Yellow is a Perth-based public company listed on the Australian (ASX) and Namibian (NSX) stock exchanges as well as the OTCQX exchange in the United States (US).
In early 2020 a Scoping Study (SS) was completed on the Tumas Project, with results outlining a project with clear potential to meet the Company's investment criteria. Completion of the SS saw the immediate commencement of a PFS evaluating a project that has similar attributes to Langer Heinrich.
The PFS evaluated the potential of calcrete-associated uranium deposits located within the Tumas palaeochannel and the potential viability of mining and processing the Tumas deposits, contained within a 30km radius of a proposed purpose-built processing facility. Impressively, the PFS only utilised 50% of the total Mineral Resources available on Tumas and established a maiden Ore Reserve estimate which includes 40 million tonnes (MT) of ore at an average grade of 344parts per million (ppm) of uranium oxide (U3O8), containing 31 million pounds (Mlb) U3O8 of Probable Reserves.
Summary Highlights of PFS
The completion of the PFS delivered results which are in line with, and in some cases better than, assumptions from the SS, highlighting a strong economic case for Tumas. Key PFS results include:
11.5 years Life of Mine (LOM);
3Mlb U3O8 pa production design capacity;
post-tax, ungeared Net Present Value (NPV) 8.6(nominal) of US$207M;
post tax, real, ungeared IRR 21.1%;
All-in sustaining costs US$30.69/lb after by-product vanadium credit; and
total initial CAPEX US$295M.
Commencement of a Definitive Feasibility Study (DFS)
The results and exploration upside at Tumas (to date, only 50% of the highly prospective 125km Tumas palaeochannel remains to be tested) has provided Deep Yellow with a high-level of confidence in the future development of the Tumas Project, justifying immediate commencement of a DFS.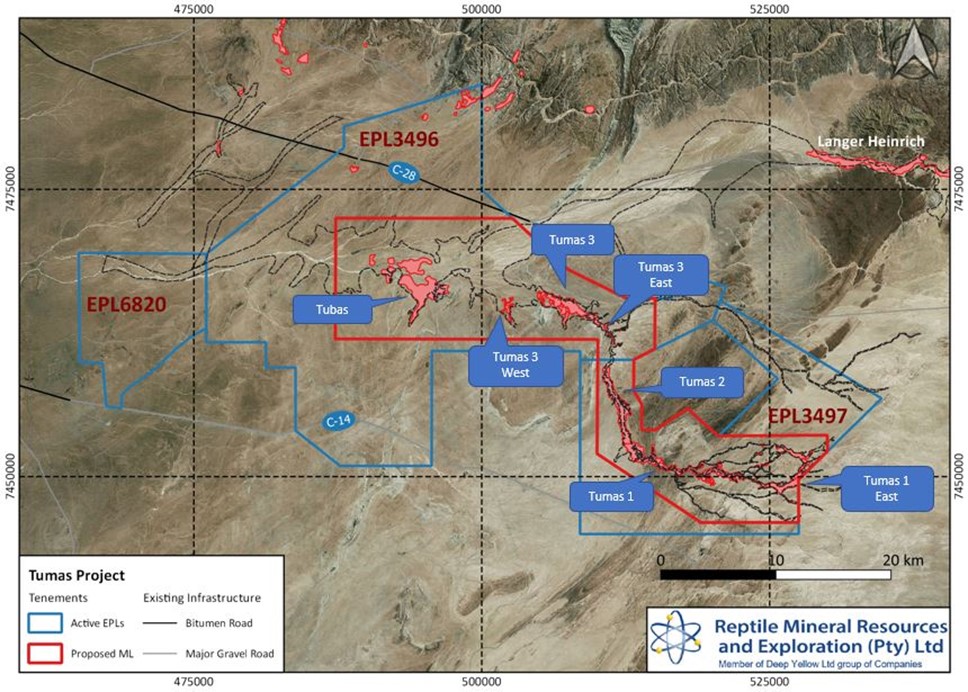 The DFS will pursue an expanded project target by incorporating the remaining 50% of the Total Mineral Resources into the Ore Reserve estimate model, to achieve the stated goal of a 20-year LOM operation. Expected completion of the DFS is due in the second half of 2022.
Progressing towards a DFS
A drilling program including 700-800 holes for 15,000 metres began in early February, which is aimed at converting the remaining Inferred Mineral Resources to Indicated Mineral Resources to support the key DFS objectives. These will then contribute to an updated Ore Reserve for the Tumas DFS.
Tumas is an exciting development opportunity and one of very few globally over the last 6 years that has progressed from brownfields exploration to completion of a PFS, now moving on to a DFS. The Deep Yellow group, led by John Borshoff, understands what it takes to successfully explore, develop and run a global uranium operation, with the majority of the Deep Yellow team ex-Paladin Energy. This is the same team who built and operated two innovative conventional uranium operations in Africa, including the Langer Heinrich mine in Namibia
The progression of the Tumas Project is being managed in line with forecasts highlighting significant improvements in the uranium price which are expected during 2022, following realisation by nuclear utilities of the looming uranium shortage expected from 2023/24.
For further information, please visit the website at www.deepyellow.com.au