Written by Retha van der Schyf
New mindsets and insights are reframing the "How-To"
You don't have to look far to bump into the increasing focus on ESG and social transformations, the S in ESG, in particular.
In truth, a deep focus on social responsibility is not new to the Private Sector, and especially not to Mining where investing in local communities is already an established priority across several decades. So, if the what and why of social investment strategies are not new, then what, if anything, might be different with the rise of ESG?
In previous articles we concluded that the perceived newness of the S in ESG is more accurately described as an evolution of traditional CSR, CSI and social strategies. This evolution has two root causes: a) increased threat from environmental, social and economic challenges have amplified the need for more innovative and systemic responses to social issues; and simultaneously b) increased world knowledge and consciousness have led to more holistic understandings of the cause-and-effect of social interactions and interventions. Both these root causes have brought about an evolution in thinking and reframing of pertinent questions in relation to both old and new social challenges. This evolution towards integrated systems-thinking is having far reaching consequences, including a re-examination of roles and responsibilities for social wellbeing, especially by the Private Sector.
In this article we will focus on how both these causes have also brought about an evolution in approaches on "How- To" design social transformation programmes that are increasingly aimed at achieving more resilient societies and social structures.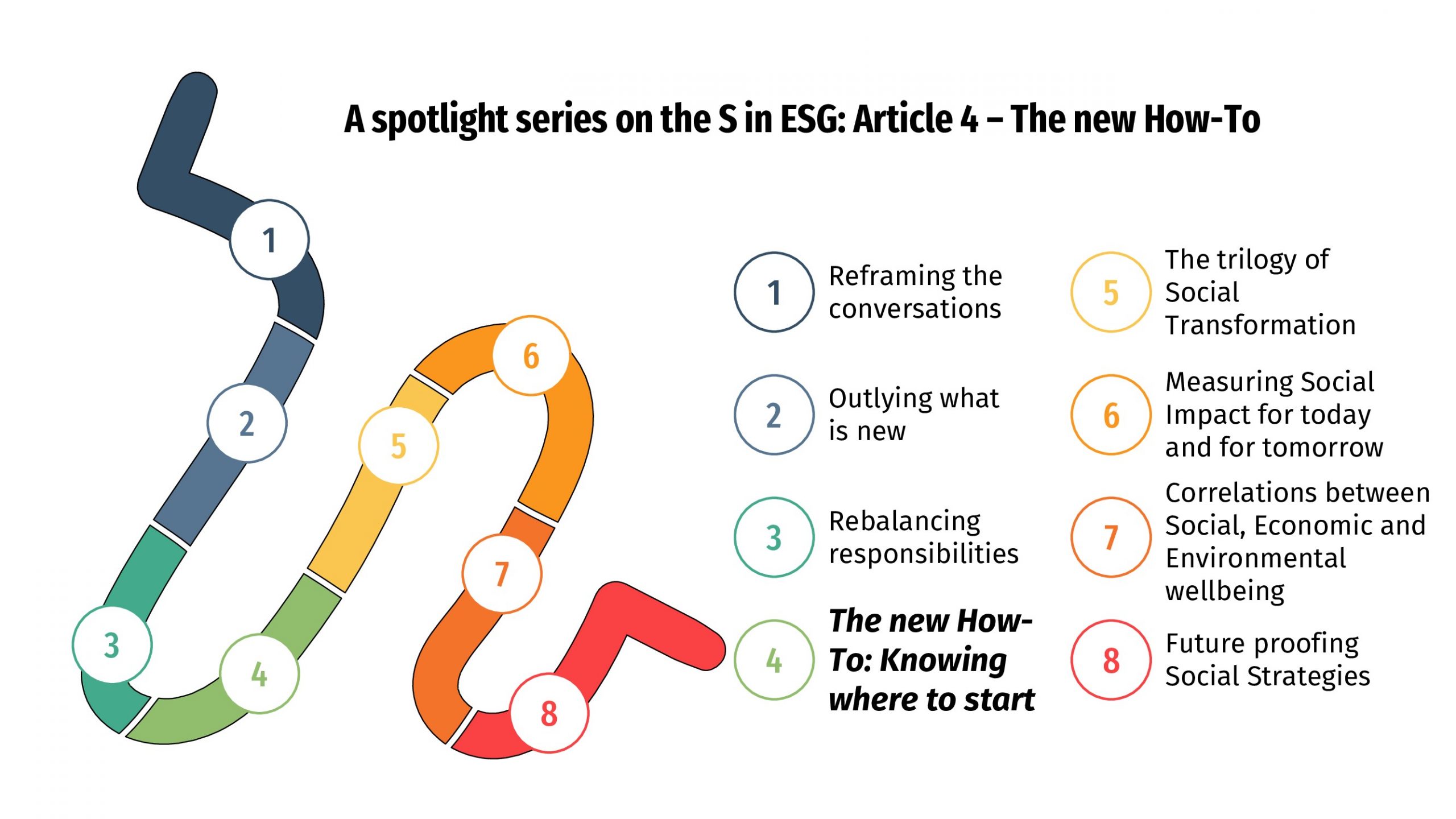 The holy grail of more resilient societies
Salients defines resilience as the ability to continuously evolve and to thrive despite vastly changing circumstances.
We are living in fast-paced and fast-changing times. This pace of change does not allow people and societies enough time to adjust their cultures, norms, identities, and behaviours to the new status quo. This time lag ultimately leads to disjoints and breakdowns in individual and social wellbeing, which social investments strategies then later aim to solve.
Faced with this dilemma, and the fact that we simply cannot control the pace of change, the only option is to arm ourselves and societies with much greater resilience to better navigate change, as well as the pace thereof.
With this refined aim, brought in sharp relief with the arrival of ESG, social transformation initiatives are now going deeper and further to ensure more systemic resilience within local communities or the social spheres they intend to impact.
Applied to mining
In mining, this for example could mean that alongside a focus on solving for the devastating impacts of alcoholism, such as domestic violence, is to solve for why certain groups of people in the community resort to addictive substance abuse. These intra-personal behaviours of self-harm typically stem from either deep-seated low self-esteem or self-worth, which can be addressed more holistically for the impacted individuals, but also for the extended society, which either out of misdirected shame or loyalty, hide, enable or tolerate the behaviour.
Another example, which mines in Namibia have already pioneered, is to complement the provision of free local accommodation, which in the long-term does not build local socio-economic resilience, with enabling access to affordable and respectable homeownership. This can be done without creating extra risk for the mine, the employee or the community. Such a systemic approach allows employees to develop a sense of place and wellbeing within the local community, to accrue financial assets and to build cultures of homeownership. The icing on the cake is that it also achieves greater socio-economic dexterity for the local council.
A final example is, alongside empowering women and young girls in local communities to advance gender equality, is to work with the entire society and especially the men within it, to better understand how they and the entire social system need to adapt to embrace the new empowerment of women. In the absence hereof, the empowerment of women may either subconsciously be resisted at worse, or be adopted by the eco-system slower than what is possible.
The new How-To
Over its 20 years of leading transformations world-wide, Salients has identified 9 elements that form part of defining the How-To of new generation social transformation programmes.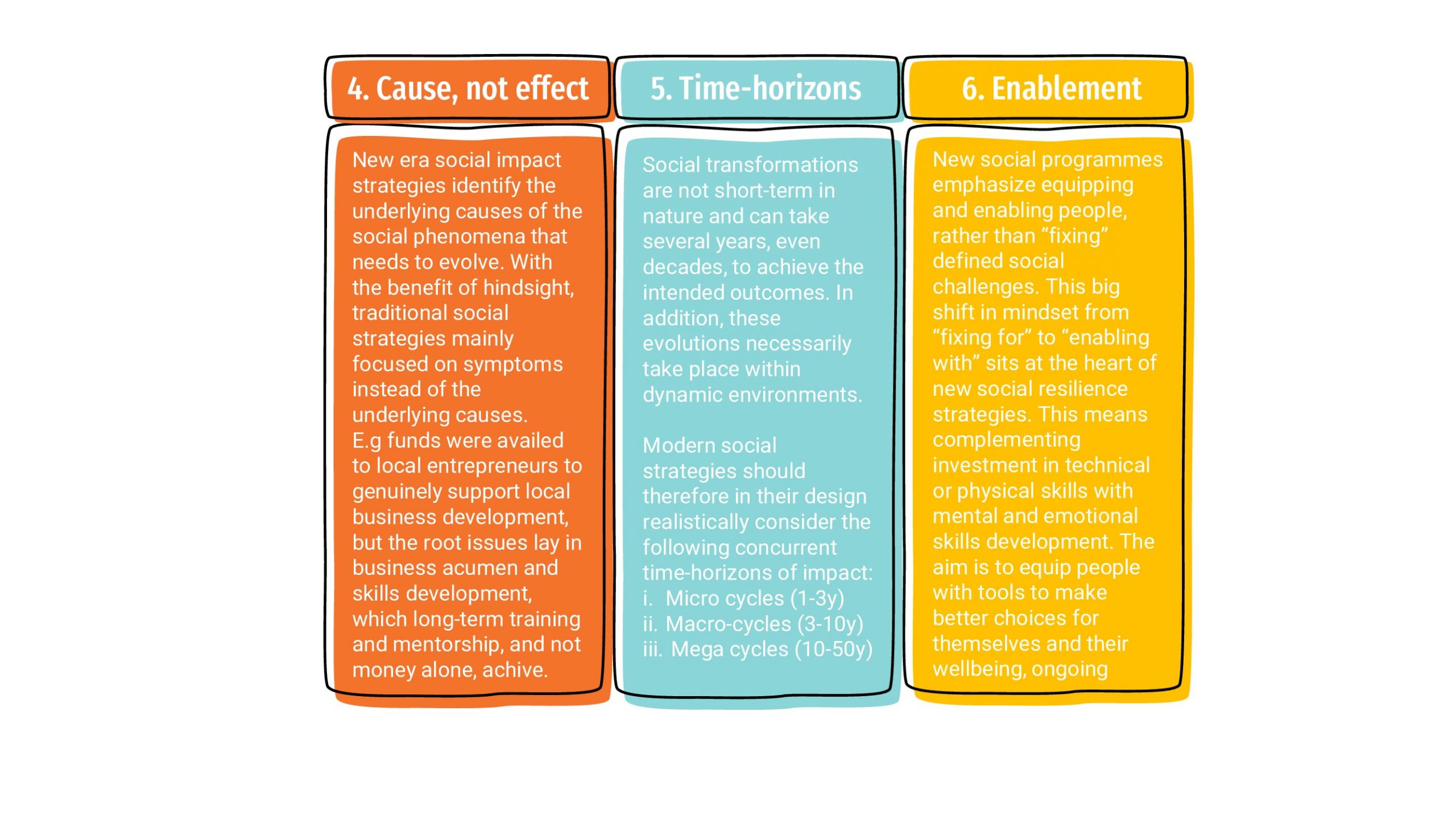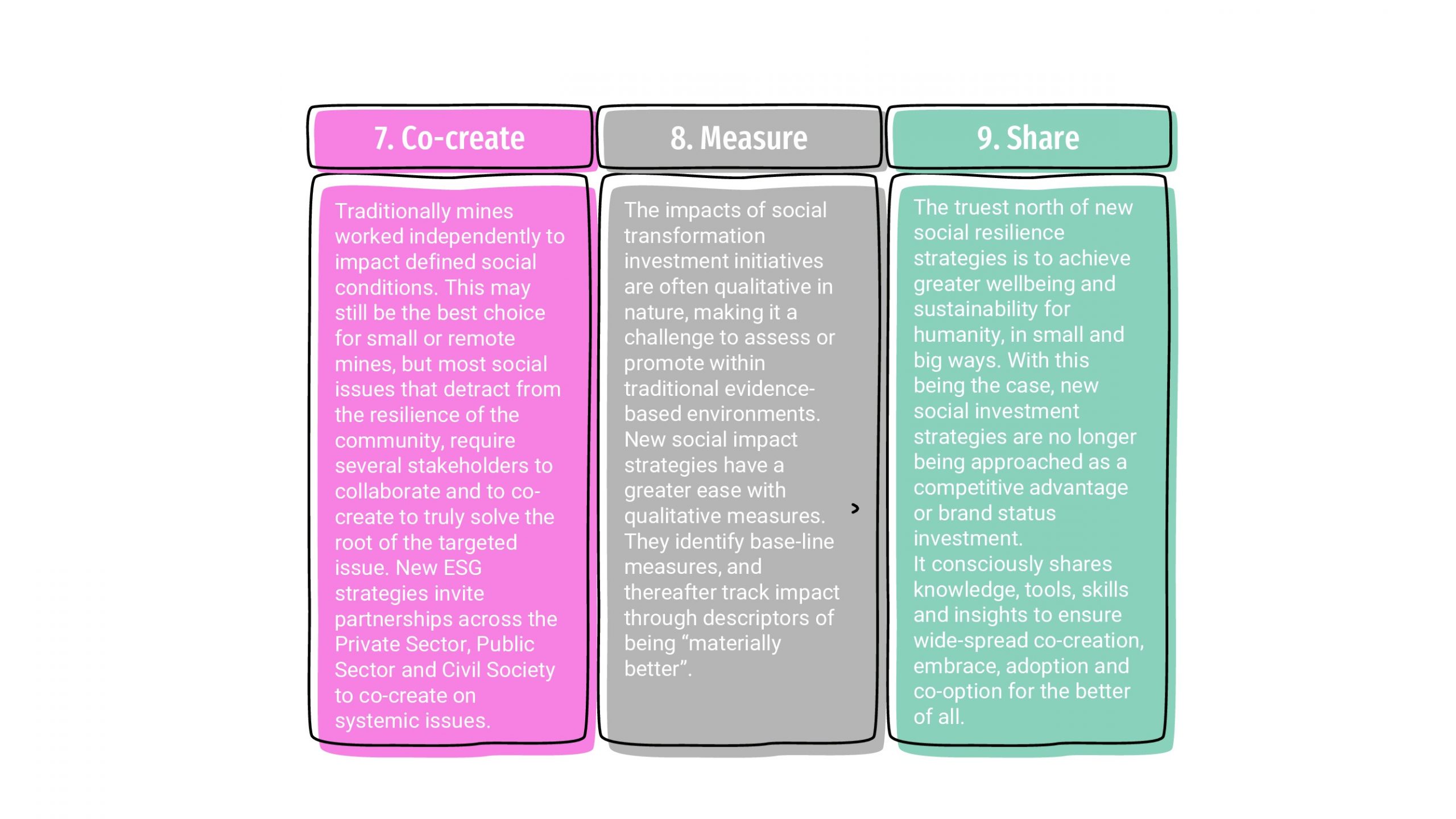 In closing
The S in ESG and the new area of social transformations it introduces, invites new levels of innovation and inspires new ways of thinking and doing that will achieve systemic impact way beyond what we may have imagined for our societies.
We are at a critical juncture in social consciousness where goals converge with opportunity to achieve the highest of ambitions. This is the inspirational moment when vision, competence and passion can combine to set a trajectory for the extraordinary. And we are just beginning to see glimpses of it.
About the Author
Retha van der Schyf is a socio-economic strategist that works with private sector, CSOS and government organisations to transform economies, societies and conurbations. For more about the author, refer to:https://www.linkedin.com/in/rethavanderschyf/